From the moment Madelyn opened her eyes on the morning of April 14, 2012, until the moment she took off her beautiful dress, she was joyous. Jamming out to One Direction's, "What Makes You Beautiful," on repeat while she was getting her hair done, Madelyn could not wait to read her assigned passages aloud in the ceremony and then celebrate with her family and friends. When we arrived at the church, it was a reunion of sorts. The Morgan and Iervolino families thoroughly enjoyed sharing this special rite of passage with many long-term friends from the community in which we grew up and their kids who are the same age as Madelyn. I want to give a special "shout out" and congratulations to the Maney, Denamen, Demarest, and Fracchiolla families!
In reflecting on Madelyn's special day, I stumbled across this quote from Pope John Paul II's, "Letter to Children" in which he describes the solemn importance on First Holy Communion and his own memories: "I remember as though it were yesterday when, together with the other boys and girls of my own age, I received the Eucharist for the first time in the parish church of my town. This event is usually commemorated in a family photo, so that it will not be forgotten. Photos like these generally remain with a person all through his or her life. As time goes by, people take out these pictures and experience once more the emotions of those moments; they return to the purity and joy experienced in that meeting with Jesus…"
With the beauty and spirit of her mother and the poise, inner strength and silliness of her father, we all couldn't be more proud of the wonderful young lady Madelyn is becoming. The sticky, bubblegum pop song from Madelyn's favorite band One Direction, which has been in my head for the past two weeks, sums up my feelings for Madelyn best: "Baby, you light up my world like nobody else," only equaled by Michael, her brother. I only hope that these pictures will help Madelyn and the rest of our family fondly remember this special milestone in her life, as well as show her how much she is loved.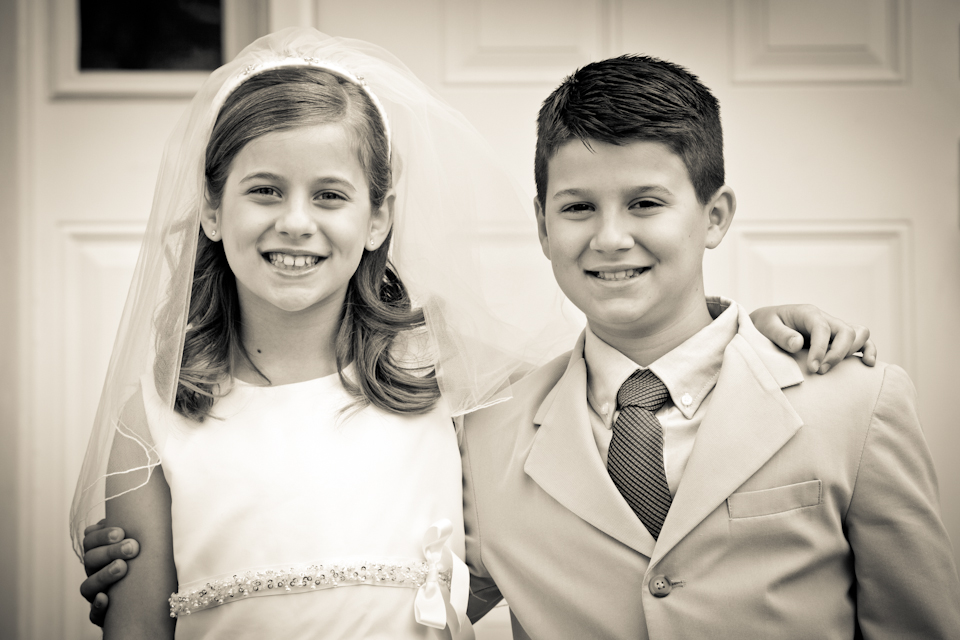 Want to see more? You can find the entire gallery at: http://bit.ly/IDcGnZ