"Everything will be alright in the end. If it's not alright, it's not yet the end." – John Lennon
The finale of BOCCE in the AFTERNOON signified an ending. No longer can we count on seeing posh party-goers in a suit or 3 inch heels toss a bocce ball at 6pm on a summer Friday. Instead we will need to come back to our mind's eye to relive the camaraderie and joy experienced over the past six years. Whether it is your favorite bocce fare — the pesto pasta, egg salad bagel sandwiches, macadamia nuts or sliced duck breast –  the hard-fought victories on the bocce court, the warm glow of beautiful sunsets on the roof,  getting deep in conversation with fellow smokers in the Bourdain room, cutting a rug in the living room or the possibilities of meeting someone new, BOCCE in the AFTERNOON will live on through our enduring friendships and our memories. I loved meeting so many interesting people these past six years, and I'm honored to call many true friends. I hope that as our memories begin to fade in the summers to come, the photos will allow us to revisit the various funny, silly, sweet, and maybe even the annoying moments that we spent together and will serve to jumpstart our whimsical nostalgia.
Endings can often be beginnings, and I find myself wondering, what will come next? Will this party morph into PUTT PUTT in the AFTERNOON? Will someone else take the reins and reconceptualize the spirit of bocce? Might we have periodic bocce reunions? Whatever will come to pass in the future, we can feel good about this ending, for it is a happy one. And how often in life do we actually get the happy ending?
To our longstanding host, Mark Falconer, thank you just doesn't capture my deep appreciation for your enduring generosity and willingness to have your apartment trashed routinely. You did something truly special: you created a community in New York City. You brought people together who would otherwise never have met. For this and so much more, I thank you. I will miss our routine, 7:30am Saturday morning post-bocce debriefs where you, Val and I would piece together the evening — the good, the bad, and the ugly.  While it was never going to be a good time to end, now feels right because ultimately, Falconer, the kids are alright. You did it, and you did it well, my friend.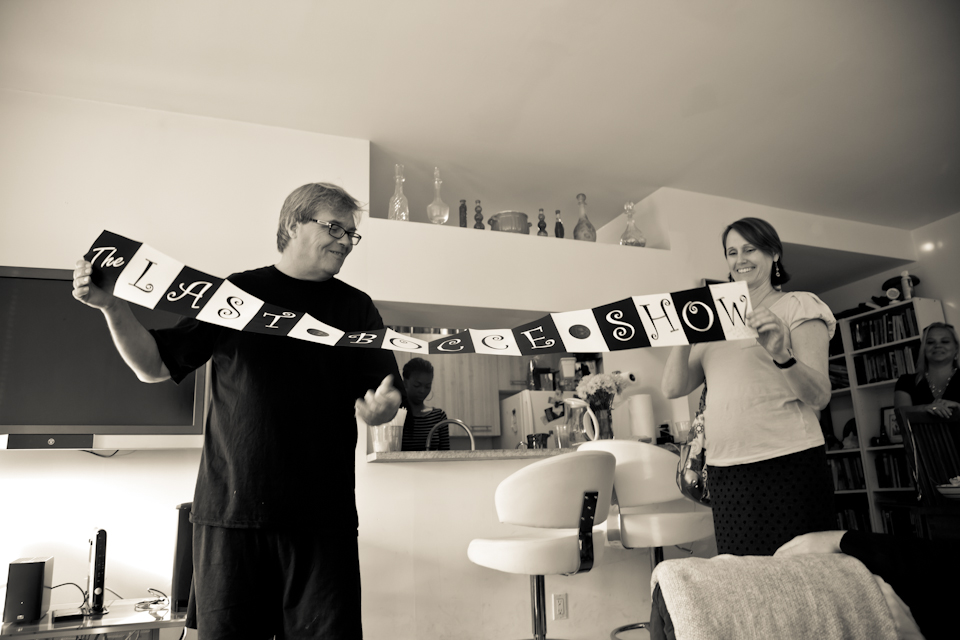 There are SO many more pictures from this party. To see the entire gallery, go to: http://smu.gs/OwVvdC
To read more about the inception of BOCCE in the AFTERNOON, please go to: http://bit.ly/KMQY4Z