After watching the sun come up, Yande, my Balinese tour guide, fellow photographer, and new friend, and I drove through northern Bali, planning to take pictures at a lakeside temple that had recently flooded. As we turned onto a desolate country road, strutting roosters and two sleeping dogs loitered on our path. From a distance I could see a hundred or so children dressed in red and white uniforms standing outside their school's courtyard. Yande pulled over, rolled down the window and talked in Balinese to a man smoking a cigarette on a motor scooter who stood outside the school's entrance. I watched and listened to their conversation for clues to what was going on. Once again during my time on the island, the part of my brain that understood language was useless, yet I could tell we were welcome and that was all I needed to know. Yande motioned that I should get out of the car.
Moving Beyond Landscapes
Music, laughter, and the smell of incense filled the warm, humid air that rushed into the car. Yande explained that a wealthy Korean family had donated a great deal of money to this poor country school. Today, the children were honoring their generosity with a traditional Balinese celebration, including dancing and games. For my first 10 days in Bali, I had been shooting gorgeous landscapes; yet it was the people I was dying to point my camera at. This might be my chance, I thought as I wandered to the entrance of the school, trying hard not to be noticed.
I watched the children perform: the young girls donned their best Balinese satin and lace dresses while the boys had warrior paint on their faces and carried spears to accentuate their ferocity. The dancers' classmates showed their support, erupting in thunderous applause and whistles as the music stopped, then hugging and patting the performers on the back.
The Real Bali
While this magical moment was unfolding, I shook off a little anxiety. I longed to be invisible. I was a tall, white woman in a land where everyone was much shorter and darker in complexion. I didn't want to be noticed and I certainly didn't want to distract from the special moment for this important Korean family. Still, I couldn't hide. This was the real Bali, and I had to capture it on my memory card.
The Korean family looked so incredibly happy and proud as they wandered around the front of the school watching the children dance and play. Their son took video to document the moment. The kids loved the camera and seemed to relish the attention. I shot quickly, worried that at any moment Yande and I would be asked to leave.
After the dancing, the children would walk to a field on the edge of the lake to play games and continue the celebration and we would follow, Yande explained. Plus, he wanted to show me the flooded lakeside temple, our original destination. We watched the dancers, many of whom were still in their make-up and now dressed in their school uniforms, sprint with excitement to the field racing their classmates. Some girls walked together holding hands while a few boys walked arm in arm. There was a gentleness and love in these children that I had also seen in the Balinese adults I had met.
Let the Games Begin! 
The first game began. To win, they needed to eat a cookie that was attached to a string hanging above their heads. They couldn't use their hands, which were tied behind their backs. First the girls went and then the boys. The children who weren't playing cheered their classmates on. Smiles and expressions of determination abounded.
While I was shooting the competition, the Korean man made eye contact with me, nodded and bowed his head ever so slightly in my direction. Then he motioned for me to follow him. I thought for a moment I would be asked to leave. He kept pointing to a ceramic bowl. Then I saw what he was showing me – inside the bowl were 10 live eels. The man pointed to the eels and then to a row of glass Sprite bottles on a table a couple of feet away. He threw his head back with laughter. Even with no common language, I got it instantly: the kids' next challenge was to grab the live eels and put them in the Sprite bottles.  Even more importantly, I understood his other message: I was welcome here, and free to take as many pictures as I liked. In fact, he seemed thrilled I was there to share in the fun and help them celebrate. Ah, the power of communication without words. Relieved, I joined him in throwing my own head back and laughing.
Five Little Words
From the moment of my arrival, the kids had watched me cautiously. It was clear they were fascinated with my long lens and camera and maybe with my white skin too. This part of Bali wasn't on the normal tourist route. Who knows how many Westerners they'd come into contact with. After eating their bagged lunches by the water's edge, three girls worked up the courage to approach me. "Hi!" said one brave girl. I answered back, "Hi! Are you having fun?" She smiled and nodded her head. I expected her reply to be "Yes!" but instead she enthusiastically replied, "Ok!" Then she and her friends ran away. They probably didn't know much more English than Yes, No, Hi, Bye, and OK, with little idea how to use them, Yande said. Really, though, that was plenty. We communicated with one another with gentle ease. At times, a group of kids would motion for me to join them. They wanted me to take their pictures as they showed off tree climbing abilities and their best smiles.
They were innocence in motion. Without an ipad, iphone, ipod, video game or TV in a 20-mile radius. No texts, tweets, status updates, calls, or any other distraction. And their play was gentle, no balls thrown violently, no shaming of kids who weren't as fast, agile or competitive, and no recognition of what material items they didn't possess. They were simply kids playing together, and living life to its fullest. I relished the pure joy of the moment.
After leaving the celebration, I was lost in my thoughts as Yande and I drove across the island to have lunch at a beautiful Balinese rice field. Before I'd left America, I was nervous about not knowing the language, and wondered how I would communicate with locals during my two plus weeks on Bali. Yet my morning had been rich with communication with the Koreans and the Balinese school children.
How had it happened? It was subtle and universal. Gestures, head nods, smiles. Music, dancing, laughter and an incredible range of facial expressions that cut through language barriers, or religion or country of origin.
Opening My Heart
I love words. But I hadn't needed them that morning. To understand and be understood, I had learned, sometimes it's necessary to just shut down the language part of my brain, open my heart, be present, and have a little trust and faith that the people around me would get it. Despite our differences, we were all more alike than not. We were all connected and living in the present moment.
I couldn't help but feel grateful for it all – the children, the celebration, the welcome, the understanding and connection, the rich education I was getting here and in my life in general. When I hugged Yande goodbye that evening after the sun had set, I was choked up and overwhelmed with emotion. I didn't know how to say goodbye or express my sincerest gratitude for all we had shared together. Instead of fighting it, I simply put my hands together at my heart and bowed. It was the Balinese gesture for expressing thanks and appreciation. Without words, Yande returned the gesture.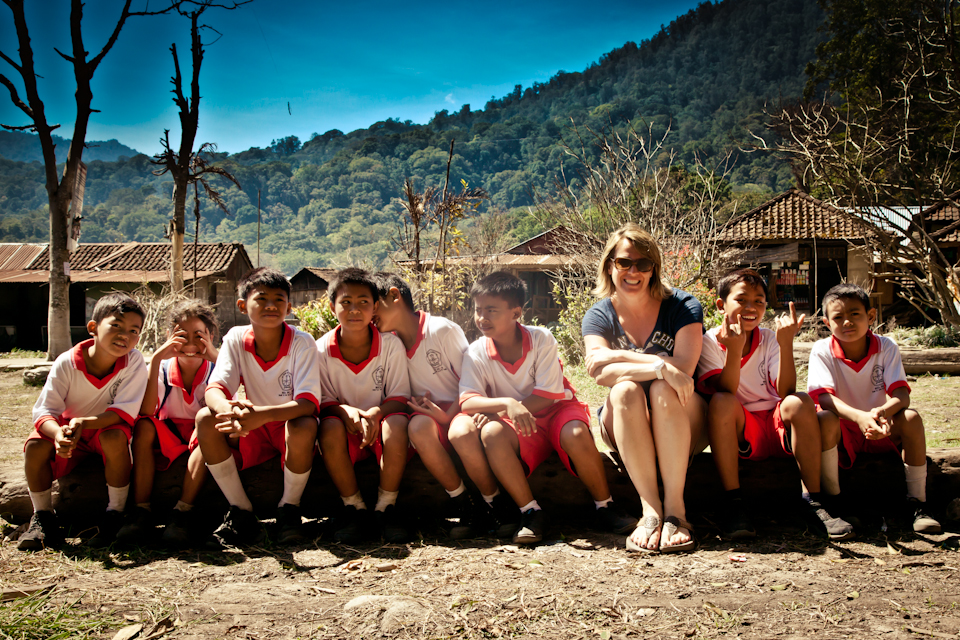 Thinking of a trip to Bali? Have Yande be your tour guide! Details about Bali Photography Tours can be found at:  http://www.yandeardana.blogspot.com/