I got goose bumps just watching as Michael and Madelyn hurled themselves off the dock and into the icy water of Lake Hopatcong on Memorial Day weekend to kick off the official start of summer 2013.  Their polar bear swim has become an annual tradition, typically taking place any time between Mother's Day and Memorial Day. But I can't remember a time when the water was this cold in northwest New Jersey.
"Come on Aunt Cindy, jump in with us," Michael begged as they revved themselves up for the great leap.  "Ask me again in August," I said, shaking my head. "You two are crazy!"
Madelyn, my nine-year old niece, took a running start down the dock and jumped without a moment of hesitation. She emerged with a big grin. "It was awesome!" she said. Stopping at the edge to gauge the temperature, Michael, my ten-year old nephew, needed a little egging on from his sister and me before he finally launched his body through the air and into the shimmering deep.
With wet heads and towels tightly wrapped around their goose-bumped bodies, they celebrated their accomplishment, dancing around the dock and high-fiving each other, euphoric, exhilarated and thrilled with themselves.
Watching them, I thought: When did I stop leaping? When was the last time I risked it, made myself vulnerable and jumped into metaphorical icy waters only to emerge ebullient and energized?
With age comes wisdom, certainly, but it can also bring an abundance of caution or a little too strong a commitment to comfort that can rob one of life's little crazy bits, also known as the best parts. It's easy to rationalize our way out of jumping.  "Why would I want to be wet and cold when I can be warm and comfortable here on the dock?" I thought. "I have a week full of meetings. I can't risk getting sick." Here's what I forgot: with big risks come big rewards.
Even when I was younger than Madelyn and Michael, risk-taking was never my strength. I failed every hearing test I ever took between kindergarten and third grade. My concerned parents took me to a specialist, who ran a battery of tests, and announced my diagnosis: I would never be a gambler. Unless I was 100% certain of hearing the tone, I wouldn't raise my hand. Even by kindergarten, the fearless, wild kid within me had learned that safety and security trump taking risks. For the rest of my childhood and well into adulthood, I would have to push myself to override my safety precautions to say, "Risk it, Cindy! So what if you fall flat on your face? Do it anyway! The payoff will be worth it!"
As I got older, I stopped pushing so hard. I became a little complacent in my safe, routine existence. I feared change, failure, looking foolish, getting my feelings hurt, feeling too vulnerable.  I tucked my heart away to keep it safe from injury. I started dreaming small. Then I turned 40 and it just hit me that playing it safe wasn't working. I wasn't all that happy and I wasn't even safe. I wasn't fully alive.
So here is my comeback, two years in the making so far. I'm asking myself the big, hard questions — what do I want for my life, what's going to make me truly happy? I'm excavating through layers of fear and learning that great strength comes not from playing it safe but from being vulnerable and takings risks. With a little help from friends and family and teachers like the amazing Michael and Madelyn,  I'm in my running start, dashing headlong, knowing that nothing will stop me from making the leap, or the joy and exhilaration that follow.
I feel so lucky to have Michael and Madelyn to instruct me on the pure happiness of truly living.  In return they can always count on me to be standing on the dock, egging them on to embrace their vulnerabilities and take the big jump, and serving, incognito, as their lifeguard and biggest fan, looking out for their safety, documenting their courage, then wrapping them in warm towels and celebrating their accomplishments.
Next summer, I just might be convinced to put on my bathing suit and with a running start euphorically leap with them into their annual kick-off to the summer of 2014.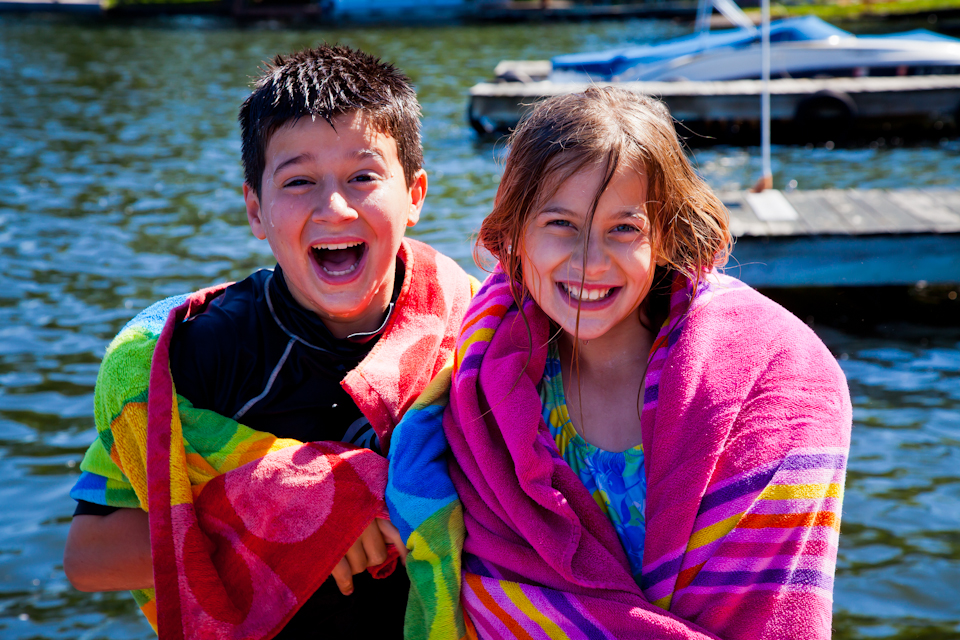 Want to see more pictures from Memorial Day? Go to http://smu.gs/15iKP70