I kept hearing it. "Oh, of course you're going to Bali. You're doing the Eat, Pray, Love thing after your divorce.'' The comment irked me. It ignored all the sophisticated analysis and carefully selected criteria that went into choosing this exotic destination for my solo adventure.  And having a fling halfway around the world wasn't even on the list of priorities; I just wanted to fall back in love with photography.  And myself.
Solo? Seriously?
An unrelenting work schedule this past year left me with just two weeks to travel – the last week in August and the first week in September. When I urged friends to join me,  most were either returning from their summer vacations or getting their kids ready to begin a new school year, so none were available. Dying to get away, I considered the idea of going alone. Fear and doubt haunted me: Could I really do this? What if I didn't leave the hotel room? What if I was terribly lonely? What if I got sick? What if not a single person spoke to me in two weeks?
For several days a wrestling match raged inside my head, resembling the likes of Hulk Hogan versus Andre the Giant. Finally I decided. I would go! Alone. I would spend two weeks in the pleasure of my own company with only myself to please. Such a feeling of freedom. I was simultaneously elated and scared. I was so accustomed to making decisions based on what would please others that it felt foreign to ask myself what would make me happy and then take action. The minute I made the decision, my anxiety abated, and I knew this was the right call.
The Perfect Spot
I pulled up Google Maps and decided that the entire world was a possibility for this trip of a lifetime. Since I have terrible luck with bad weather on vacation, I ruled out anywhere with the potential for hurricanes, monsoons, or snowstorms. The list of criteria wrote itself: 1) it had to be a place I had never been before; 2) it should be a place with a unique culture, diverse sites to explore, and vivid imagery to make pictures; 3) near the water; 4) the opportunity to meet other solo travelers; 5)  a place where English would be readily spoken. But my bottom line was clear: the ideal location was one where a woman could feel safe on her own.  So OK. I have to hand it to her: Elizabeth Gilbert and her book single-handedly made Bali a top destination for women to safely journey on their own, even following the horrific terrorist attacks in Kuta in 2002 and 2005.  The more I read and talked to friends who had been there,  the more excited I became about Bali. It met or exceeded every criteria. I thought, to hell with those who thought it was a cliché. Bali would serve as a perfect backdrop for my solo adventure and my new beginning.
Falling out of Love
Somewhere in between getting the Camera+ iPhone app, a falling out with a close friend who shared my passion for photography, five professional photography gigs this past spring and summer and the start of the BOCCE in the AFTERNOON series, I found myself leaving my camera in its bag more often than not. Gone were the days when I had jumped out of bed before daybreak to chase the beautiful, golden light that makes an image sing or planned my weekend around discovering a new location in the hopes of capturing the shot of a lifetime. Making pictures had become a job with a set of expectations and assumptions that took a lot of the joy and creative juices out of me. Pressure to create art on demand that pleased others became a burden.  I needed to reignite my passion, but I didn't know how. It was clear that forcing it wasn't the answer.
Yande
In planning my trip to Bali, I decided to hire a tour guide. Not only would I get the insider's perspective on the 2,200-square mile, Hindu island of more than 4 million residents in the Muslim archipelago country of Indonesia, 12 hours ahead of Eastern Standard Time, I would also have a guaranteed companion to talk to on the days that we toured together. With a few clicks of the mouse, I found Bali Photography Tours led by Yande Ardana. With more than 10 years of experience, he agreed to be my capable mediator on the island. His images were stunning, and his passionate words for both his island home and photography felt inspirational.
A New Dawn
My alarm went off at 3:45am. It had been the first morning I rose before the roosters and dogs began their morning sing-a-long. I walked to the front of the resort where the hotel concierge smiled and wiped sleep from his eyes as he handed me a breakfast go box. Yande was waiting. He quietly introduced himself and shook my hand. Around my height with a fair build, Yande had a gentleness about him. Looking at him, I tried to figure out my new friend's age.
We drove for 45 minutes through the darkness to the northern part of Bali; conversation was polite, though minimal, as I tried to wake up. When Yande stopped the car and signaled that I should get out, it was pitch black and my eyes struggled to adjust.  The temperature was in the low 50s, which made me shiver in my shorts. Yande set my camera up on his tripod, and we waited. Together we watched the sky go from black to orange to gold until the sun came up over Batur, Bali's most active volcano. Struck with awe by the dawning of this new day, peace washed over me. I snapped hundreds of images, hoping at least one would capture this gift of a morning that Yande and I had experienced together.
Once the sun had come up, we drove to a small, lakeside village where the morning light was spectacular. A woman came with her small son to the water's edge,  where they too were beginning their day. She washed their clothes, and he brushed his teeth in the water beside us. This would be one of the many memorable moments that gave me a different perspective on Bali than the one that I had gained at COMO Shambhala and some of the more touristy parts of the island.
Wild Horses
Yande was a true Renaissance man: he played the guitar and sang; he studied martial arts and played badminton; he hated paperwork and being stuck in an office. He paid attention to subtleties in nature and in people and was equally a good listener and an engaging conversationalist. He had strong opinions yet was open to alternative perspectives.
While we explored the island, we talked about ourselves and our families, Hinduism, life on Bali, and his impressions of the tourists from around the world he has met. Americans, he said, generally had it all wrong: they were too head-focused and ego driven and didn't pay enough attention to their hearts and souls. He looked at me and said, "You need to reign in the wild horses that run through your mind, Cindy, so you can unlock your heart and reveal your true spirit." He advised yoga and meditation. He made me smile. I enjoyed his company thoroughly.
Never Too Busy
My new teacher was very patient, and I hung on his every soft-spoken word. He explained what my eyes were seeing but couldn't compute, like the bamboo poles that lined every road we drove. These symbols, called penjor, marked the most important religious holidays on Bali: Galungan and Kuningan, when the spirits of deceased relatives return to visit their former homes, and the women say many prayers and make offerings of fruit, water, rice, and flowers.  I revealed my Western, Fresh-Direct mentality, asking naively if their local grocery stores sold pre-packaged offerings in case the women were too busy with work or their families to make them. He paused a moment and then replied, "No. Women in Bali are never too busy to make their offerings by hand."
Over fried bananas and ginger tea, our conversations moved nimbly between Reiki healing; reincarnation; the Hindu gods; restoring one's karma through forgiveness; different varieties of incense, the signature fragrance of the island; men showing off their roosters to their village "warung" or café in the afternoons; techniques for growing rice; dating and marriage rituals; music and traditional dancing; and the Balinese educational and political systems. Yande was so proud of Bali – its beauty and spirit. He had only left the island twice in his nearly forty years; once to go to Java and once to Lombok, both neighboring islands in Indonesia.
Yande told me about his spiritual teacher, who came to his home every Saturday night to help him to deepen his meditation and Kundalini yoga practices. His latest assignment was to meditate for 2 consecutive hours; compared with my 3-minute meditation practice, this goal felt daunting and impossible. I asked how he was doing, and he proudly smiled and revealed that his all-time longest meditation was 60 minutes and that he is up to 30 minutes routinely. I became anxious for him: "Does your teacher get angry that you haven't achieved the goal yet? What are you doing to get yourself there? Do you get mad at yourself about your lack of progress?" He chuckled and said, "Cindy, it isn't about getting to the destination or achieving the goal. For me, it's about the process, and I enjoy every minute of it. 30 minutes or whatever I can do is perfectly enough."
Excellent Karma
Mostly we talked about photography, and why we were both drawn to it. Yande was self-taught and knew every technical aspect of each piece of gear that we both had in our bags. He shot with older Canon equipment, which he treasured. He gently gave me tips, as we compared the composition of our many landscapes. He would become animated when I captured an image he liked more than his own; he would run to the same location and recreate the shot. On two occasions when the morning fog rolled in over the water, he looked at me and shook his head. "Cindy Morgan, you have excellent photography karma." I admired Yande's simple joy and passion for making images. He shot only for himself and felt no pressure to yield to someone else's expectation of what good looked like. While we brainstormed ways to develop Yande's touring business so he could better integrate photography, he thanked me for my very strategic and insightful wild horses.
Falling in Love Again
In total, we spent three days together, from the darkest hours before daybreak until the dazzling sunsets of dusk. From the first day of being with Yande until the end of my trip, my heart leapt every time I put my eye to the viewfinder. My brain raced with options for composition and depth of field for every scene. I longed to feel the weight of the 70-200 lens on my hip when I went to bed at night, and I couldn't wait to get up in the morning to explore and discover the images that lay ahead to fill my day. Without even realizing it at first, I had rediscovered my artistic purpose: to capture with my camera the indescribable beauty and sense of myself that I was experiencing on this magical island, and to make these images to please me alone. My time with Yande had filled me with a renewed sense of my own creative process and restored my energy and passion for photography. This was a far better outcome than falling in love and riding off in a boat with Felipe/Javier Bardem! Everything felt possible again. Bali had brought love back in my life, and I couldn't have been more excited.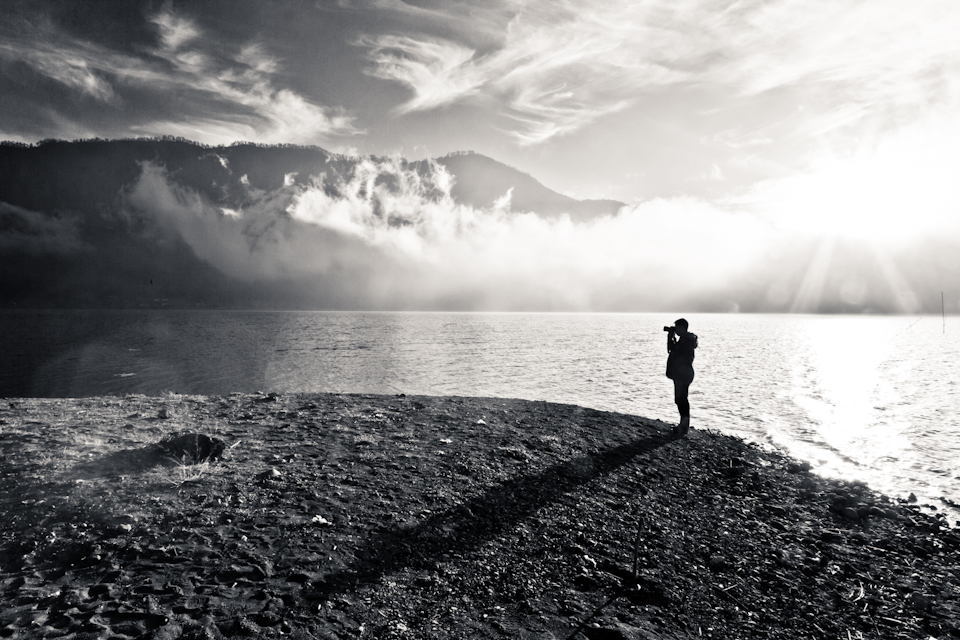 Thinking of a trip to Bali? Have Yande be your tour guide! Details about Bali Photography Tours can be found at:  http://www.yandeardana.blogspot.com/